After over one year of forced confinement, due to the still ongoing Covid-19 pandemic, academics around the world seem to have settled down on the idea that after all, we can still do our job via videoconferencing. We had to adapt to the situation as everybody else, of course, and in a general sense we are a privileged minority – other human occupations which are only possible in person suffered way more.
International conferences are one of the things that could most quickly be reconfigured. In the past, presentations by video conference were a last resort, and one used very rarely and only in cases when, e.g., a crucial speaker would lose a flight or be incapacitated to attend in person. Now, it seems only natural that a conference can be attended to from one's living room. But this is, of course, completely against the spirit and the main goal of these events, which are meant to provide a way for scientists to meet, interact, exchange ideas, create connections. Most of that part is lost when you can only watch a computer screen.
It is thus with trepidation that I am planning to attend two events in person. The first is a Machine Learning mini-workshop which will take place as a parallel session of the Xth International Conference on New Frontiers in Physics between August 23 and 31, in the very nice setting of the Orthodox Academy of Crete in Kolympari, and the second is a workshop on differentiable programming for experimental design optimization, which will be held in Louvain-la-Neuve (Belgium) between September 6 and 8.
The two events are quite different, and yet they will offer a similar opportunity to physicists and machine learning enthusiasts: to meet in person. Of course there will be a possibility to give a talk online – the hybrid formula is here to stay; but the idea is that we will be able to interact in person at these events, and this is particularly important when you are bringing together two different communities, as is the case of the second event, which is focused on getting physicists with optimization problems in the same room with computer scientists with an advanced tool to customize.
So, if you have a nice application to fundamental physics of an advanced deep-learning tool which you would like to discuss, or just a challenging application which you would like somebody from the computer science community to help you with, the second event should be something to consider. Instead, the conference in Crete will offer, besides the beautiful setting and perks (the conference venue overlooks the sea and has a beach at 100 meters from the lecture hall, and I shall not mention the food), a broad overview of the status of research in fundamental physics, so if you attend the mini-workshop and give a talk on your machine learning application you will be able to get updated on a variety of topics.
As an organizer of both events, I am available to answer your questions, but I certainly encourage you to submit abstracts for the sessions! In the Louvain workshop we have a focus on applications to muon tomography, high-energy physics, nuclear physics, astroparticle physics, and neutrino physics in distinct sessions, so you will feel at home regardless of what your specific research area is. I attach the workshop poster below, in the hope you will register and attend online or, even better, come in person… There is no registration fee, and we can even support your travel!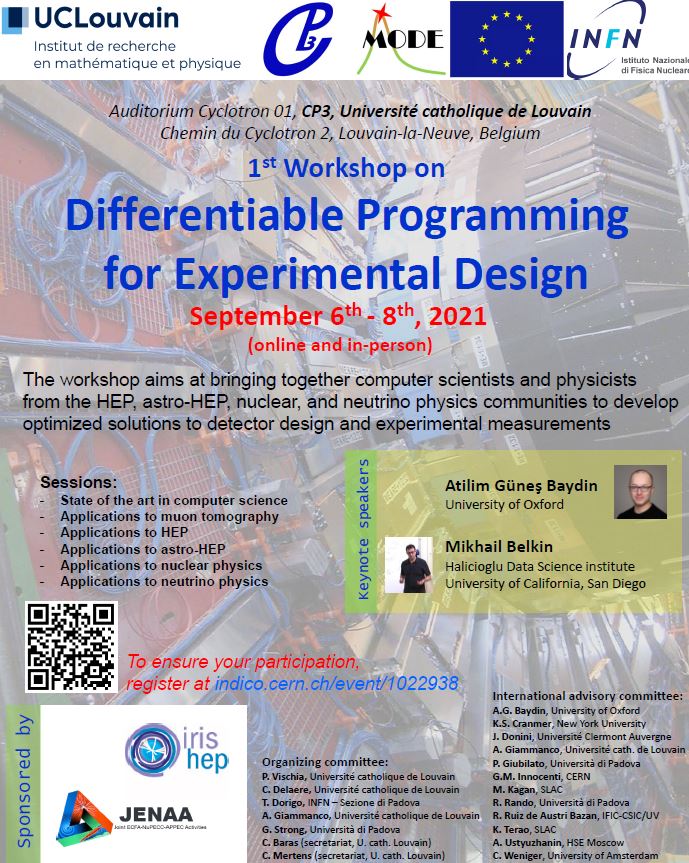 —
Tommaso Dorigo (see his personal web page here) is an experimental particle physicist who works for the INFN and the University of Padova, and collaborates with the CMS experiment at the CERN LHC. He coordinates the MODE Collaboration, a group of physicists and computer scientists from eight institutions in Europe and the US who aim to enable end-to-end optimization of detector design with differentiable programming. Dorigo is an editor of the journals Reviews in Physics and Physics Open. In 2016 Dorigo published the book "Anomaly! Collider Physics and the Quest for New Phenomena at Fermilab", an insider view of the sociology of big particle physics experiments. You can get a copy of the book on Amazon, or contact him to get a free pdf copy if you have limited financial means.