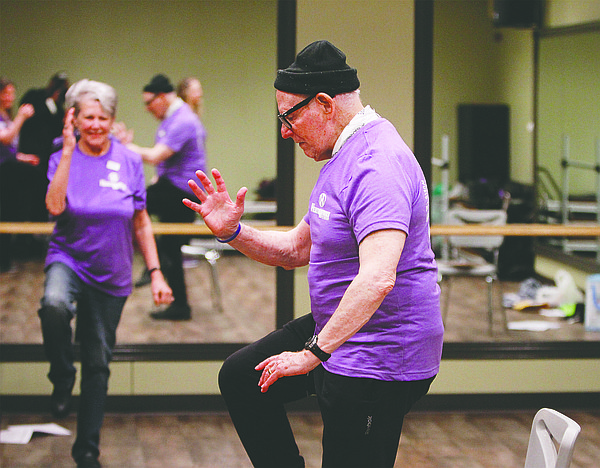 Seniors and older adults searching for group physical activity will soon have that opportunity thanks to the South Arkansas Center on Aging.
Starting Tuesday, the Center will begin offering outdoor Tai Chi classes twice a week at the Murphy Arts District Amphitheatre and, beginning in August, Walk with Ease classes upstairs at the Champagnolle Landing Senior Wellness Center.
Center on Aging education coordinator Aron Pagan will lead both classes. Pagan previously led an indoor Tai Chi class and said this class will be an even more relaxed, slow-paced version of the practice.
According to the Mayo Clinic, Tai Chi is a "graceful form of exercise that's now used for stress reduction and a variety of other health conditions," described as "meditation in motion."
"It's a very easy form of Tai Chi developed to help address people with arthritis, decrease pain, improve balance, stability and posture and lower stress," Pagan said.
For this class, Pagan said the exercise will all be done fully seated.
"Seated Tai Chi focuses more on movement. We will be a bit more intentional with the exercise, learning proper form and will be taking it really slow. A lot of times when doing seated tai chi, you can work more on breathing. You may not realize it but even doing it seated you're still increasing your core muscles and can teach form a bit cleaner," Pagan said.
Pagan said that while teaching the Center's first Tai Chi class, she learned to not rush the process and to focus on form and breathing, and to overall be more deliberate when doing Tai Chi. This led to her decision to do the seated class.
This class, she said, will also be beneficial to those unable to do the full exercise due to arthritis or joint pain.
"Doing it seated, we will also encourage visualization. Even if the participant can't do the full extension due to joint pain or arthritis… we will encourage them to visualize the full extension, to do it as far as is comfortable to them and visualize the full extension. You can see real progress from doing this," Pagan said.
Chairs will be set up 12 feet apart for social distancing. Participants are asked to wear a mask to the class but will be able to remove the masks once socially distanced.
Pagan said there will also be COVID-19 screening protocols before each class.
The Tai Chi classes will be held each Tuesday and Thursday from July 27 until September 2 and last from 9 a.m. to 10 a.m.
From August 2 until September 10, the Center on Aging will also bring back the Arthritis Foundation Walk with Ease class.
Held on Monday, Wednesday and Friday from 1 p.m. to 2 p.m., Pagan said these classes focus on "addressing pain, decreasing falls [and] improving balance."
The classes begin with education material. Participants will be encouraged to keep a journal on their progress and to walk outside of class as well.
"What we do is start with warm-up – something a lot of people miss when walking is doing a warm-up, doing stretches before walking and cool down stretches after. We focus on that to help acclimate the body to the exercise and get used to doing those things," Pagan said.
As the class continues, participants should see a marked improvement in their ability to exercise.
"We start out with 10 minute walk and each week we increase that gradually to 30 minutes. You should see improvements in cardio and endurance by the second or third week, with your balance and gait getting better," Pagan said.
The Center on Aging classes are for "any older, mature adults," Pagan said, and are structured to allow participants to go at their own pace and adjust based on their needs.
"During the last Walk with Ease, we had 95-year-old gentleman who was there and did really well. We encourage people to go at their own pace, that's the beauty of these programs," Pagan said.
Both classes are free but require registration. To register, contact the Center on Aging at 870-881-8969 or email [email protected] or [email protected]
Pagan also offered an update on a personnel addition at the Center on Aging she thinks will prove beneficial to the organization.
"We do have a new assistant director who has joined us here, Jordan Turner, who is very experienced and we're excited to have her join the team. That's something that has been important to us recently," Pagan said.