In her 18 years as a competitive figure skater, Bettina Heim learned to land a lutz with speed and grace. Now, armed with a Ph.D. in quantum computing, she's helping Microsoft Azure Quantum carve out a position at the cutting edge of cloud services.
"I've always been attracted to interesting problems and working hard to achieve a goal," said Heim, a principal software engineering manager at Microsoft. "That's why I was drawn to quantum computing, where there's a huge potential to benefit society by creating a completely new tool beyond today's classical systems."
Last winter, Azure Quantum — in collaboration with Quantinuum, Quantum Circuits Inc., Rigetti Computing and Oak Ridge National Lab — demonstrated how classical and quantum systems can work together to tackle big problems, a capability it aims to deliver to any cloud user.
To get there, it's embracing tools such as NVIDIA QODA, an open, universal programming environment that will link GPUs and quantum processors in future hybrid systems.
"QODA will help us take that next step of offering a robust integration of very different systems and developer tools," said Heim, a Swiss national now based in Seattle.
Quantum's Software Foundation
Laying the software foundation for quantum computers is the focus of the QIR Alliance that Heim chairs.
The industry group oversees work on a common interface between quantum programming languages and targeted quantum computers. QIR enables developers to use tools like QODA to build apps that run on hybrid quantum computers to accelerate scientific discovery.
That's a huge leap for a sector where developers are used to writing the equivalent of assembler programs that directly address the specifics of each system.
"It's important to have tools that don't require deep knowledge of quantum systems, so we're collaborating with companies like NVIDIA to engage and inspire a broad field of developers," she said.
"QODA and cuQuantum provide a great step ahead for the field by taking advantage of classical HPC resources for quantum development," she added, referring to NVIDIA cuQuantum, a software library for running quantum-circuit simulations on GPU-accelerated systems.
An Expanding Quantum Ecosystem
The collaboration with Microsoft to expand the QIR ecosystem and integrate NVIDIA's toolset with Azure Quantum is one among many. Dozens of companies are adopting cuQuantum to accelerate quantum research on today's classical computers and QODA to program tomorrow's hybrid classical-quantum systems.
For example, Rigetti Computing will let developers use QODA to program its superconducting quantum computers. And software specialist Classiq will use QODA to optimize performance of its quantum algorithms.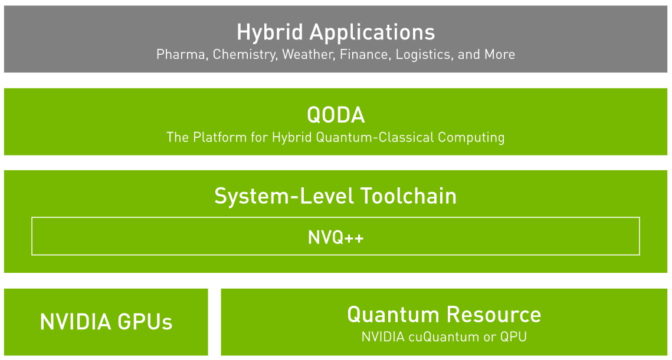 The companies join quantum hardware providers IQM Quantum Computers, Pasqal, Quantinuum, Quantum Brilliance and Xanadu, which announced collaborations using QODA in July. They support a broad range of qubit technologies that reinforce QODA's role as a unified platform enabling all hybrid quantum-classical systems.
In addition, QODA has support from software providers QC Ware and Zapata Computing and four supercomputing centers: Forschungszentrum Jülich, Lawrence Berkeley National Laboratory, Oak Ridge National Laboratory and RIKEN in Japan.
Industry Research Rides cuQuantum
Meanwhile, the applications for quantum circuit simulations on cuQuantum are expanding.
BMW Group identified more than 40 automotive use cases for quantum computing in a paper last year. This year, it used cuQuantum's cuStateVec library as part of its work on a benchmark for quantum applications.
The automaker hosted a global challenge in collaboration with Amazon Web Services (AWS) to show ways quantum systems can address the sector's toughest optimization, AI and material science problems. In a sign of the broad interest in the technology, the challenge attracted 70 teams.
In Japan, the Fujifilm Informatics Research Laboratory is using cuQuantum to build quantum circuits with startup blueqat. The collaboration aims to create simulations of large-scale quantum circuits to accelerate Fujifilm's R&D.
Developers can use cuQuantum to create accurate simulations of hundreds of qubits on a single NVIDIA A100 Tensor Core GPU, and thousands of qubits on a supercomputing cluster.
Quantum Expands in the Cloud
Oracle Cloud services will let developers create quantum-circuit simulations on GPUs. It's making available on the Oracle Cloud Marketplace the DGX cuQuantum Appliance, a container with all the components needed to run cuQuantum jobs and deliver multi-node capabilities
Likewise, AWS announced the availability of cuQuantum in its Braket service. It also demonstrated on Braket how cuQuantum can provide up to a 900x speedup on quantum machine learning workloads.
Consulting firms are also showing the potential of quantum computing accelerated with NVIDIA software.
AI Gets a Quantum Boost
Deloitte will use cuQuantum and QODA to take natural language processing to new heights in customer service. It will employ high-dimensional datasets to let systems interpret full sentences.
In other projects, it will explore how cuQuantum can speed drug discovery and unravel complex optimization problems in structured medical data.
The R&D group at SoftServe, a global IT consulting and services company, is using cuQuantum in several application areas including drug discovery and the optimization of emergency logistics. It also runs the software in quantum simulations of finance such as forecasting trends in stock prices and automating financial portfolio management.
The research efforts join those from existing collaborators, including Google Quantum AI and IonQ, that announced support for cuQuantum at its launch in late 2021.
Learn More at GTC
Learn more by watching GTC sessions that give an overview of quantum-accelerated supercomputing, its ecosystem and its applications in the pharmaceutical industry.
And to get the big picture, watch NVIDIA founder and CEO Jensen Huang's GTC keynote below.
[embedded content]