The Podium platform is entirely based on Google Cloud and Mr Ruh said the company had a huge number of ongoing projects where the software could now be applied, which could then eventually lead to it selling the software to customers outside its own company.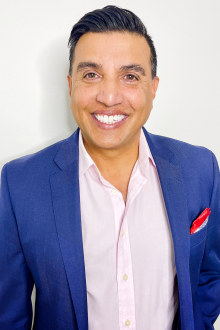 "We launched the Podium brand 14 months ago, and we now have a platform that has made tremendous progress. The strategy in the first steps is about 'Lendlease for Lendlease,'" Mr Ruh said.
"We have $100 billion backlog of projects to apply this to, and if I were a start-up I would love that amount of work ahead … We are now beginning to move to 'LendLease for customers,' for example we're working closely with a government developer in Singapore called JTC, to automate the design and manufacture of construction parts."
When using Podium on some of its own Australian developments Lendlease claims to have collected over a billion data records across four property assets including International Tower 1 in Barangaroo, Sydney as well as Melbourne Quarter. It has since measured a 24 per cent reduction in electricity and 21 per cent reduction in gas use, and has identified 171 new opportunities for operational improvements.
Lendlease will be hosting an online conference called Autonomous21 on Wednesday to discuss how the property industry is embracing digital technology with immediate impact to sustainability, safety and economic value.

Advertisement
As part of the Google partnership Lendlease will also act somewhat like a software supplier, creating new cloud-based products alongside experts from Google Cloud, principally related to more sustainable construction and underpinned by Podium.
Google Cloud is embarking on a long-term plan to crack the hyperscale cloud duopoly of Amazon Web Services and Microsoft Azure, and the smarts of its software in areas like artificial intelligence, data use and machine learning are a major selling point.
Having Lendlease eschewing its rivals is a major feather in its cap, and its Australia and New Zealand boss Alister Dias said the two companies could take the work they do together on Lendlease's digital transformation and use it to "spearhead" transformation across the global property and construction industry.
"There's no question that the opportunity is there to directly contribute to improving the sustainability footprint of one of the world's largest industries, and helping to evolve the industry with digital innovation over time," Mr Dias said.
Advertisement
"So at the moment, we're going to focus on making Lendlease successful with this full transition (to cloud), but in parallel, we'll want to get out there to share the story with the industry so that people are aware of the possibilities."
Lendlease's own internal tech transformation has continued apace during the last year, forming an important part of a company-wide restructure, and push to reduce costs by $160 million each year.
As part of its tech changes it is planning to have completely closed its eight on-premise data centres across four continents by 2022. It is initially moving core systems including its data-intensive CAD (computer aided design) platforms, in-house project management platform, OLi, and its Oracle-based eFinance system into the cloud.
This is all being executed by a tech team that has undergone significant changes in recent times. Last month its Australian chief information officer Keith Pinto and Podium chief product and technology officer Richard Ferris left the company in a restructure ITNews reported would see the company's two Sydney-based co-global CIOs Harvey Worton and David Lipscomb absorb more responsibilities.
The two CIOs report to Mr Ruh who said running the internal IT strategy alongside the growing Podium platform was like "two sides of the same coin." Its push towards full cloud adoption will enable it to take advantage of its artificial intelligence and machine learning services, he said.
He said three of its eight data centres will have been moved to the cloud by next April, and that the task of moving legacy systems was getting progressively simpler.
Advertisement
"Other than a digitally native company, I'm not sure if there are any companies that have made the full transition to cloud yet, so it is not an easy task," Mr Ruh said.
"But once you get the right people and they are trained and know what they're doing, we are finding that we can accelerate it because the mystery goes away. It is actually very easy to move many of our applications, the harder part comes when you have to rethink your contracts with vendors to make sure it works when operating on top of the cloud."
Mr Ruh said the partnership with Google Cloud would now let it accelerate and rapidly scale its building data across the entire portfolio of assets, improving decision-making, sustainability outcomes and also the happiness of people using its buildings.
"Our goal is to automate design fully, and help to get a significant time reduction, let's say half of the time it takes to design. So if we can target that working with Google and their technology that's great," he said.
"Then we also want to explore how to go to market with this capability because globally there are thousands and thousands of developers out there. They have the reach, we have the technology, so I'd love to figure out how to work more closely with them to be able to bring this to market."